Installation in Neues Rheinland. Die postironische Generation / Museum Morsbroich, Leverkusen, 2010. Printed banner, tripods, spotlight, clamps
✧✧✧
Imaginary Sequels
Our perceptions in urban space are often determined by text-image combinations such as appear, for instance, in advertising displays or in journals and fashion magazines. Michel Butor describes the idea and image we form of a city as mediated by the text: from the letters and signage in its streets to ideograms that resemble a language waiting to be deciphered. [1]
Anne Pöhlmann's works can be situated in this same space of translation. In her series of posters, she works with segments cut from advertisements; lifting a word or a sentence, often in combination with a visual element from their context and enlarging the selection to its original size – the effect is comparable to that of zooming – she abstracts the visual detail, turning the text into the new image. She scans her selection and then creates a pigment print with a matte surface finish on poster paper she affixes directly to the wall. The work thus not only assimilates to the exhibition space, but also emphasizes the provenance of the motif from a magazine print, suggesting an ephemeral poster-wall aesthetic. Pöhlmann combines stereotypical pieces of advertising copy from different contexts and decades to create wall tableaux. The artist opens up a space of the imagination filled with details that recall double meanings, be it in the highly allusive phrases, be it in the ornamental lettering itself, which can become polyvalent by virtue of the magnification.
Another central topic in her work is the representation of femininity and the photographic image reproduced in the print media, thus in the series Women and Photography (2010), for which she excerpted illustrations for comparison from a handbook of photography. She examines the magazines and photographs she uses as her material to identify the content they convey as pictorial signs and as abstract shapes. Pöhlmann could not have offered a more perceptive study of the process of translation as a space and an imaginative picture than her textual series Imaginary Image Captions (2007-2010): in the book she uses as material, general vistas and hotel architectures are described in three different languages, which the artist transforms into vinyl letters she affixes to the walls or floors. The descriptions thus become the texts of the respective sites, which, depending on the beholder, evoke very different ideas.
[1] Michel Butor, Die Stadt als Text, Graz/ Wien 1992, S. 7-10.
Lilian Haberer
✧✧✧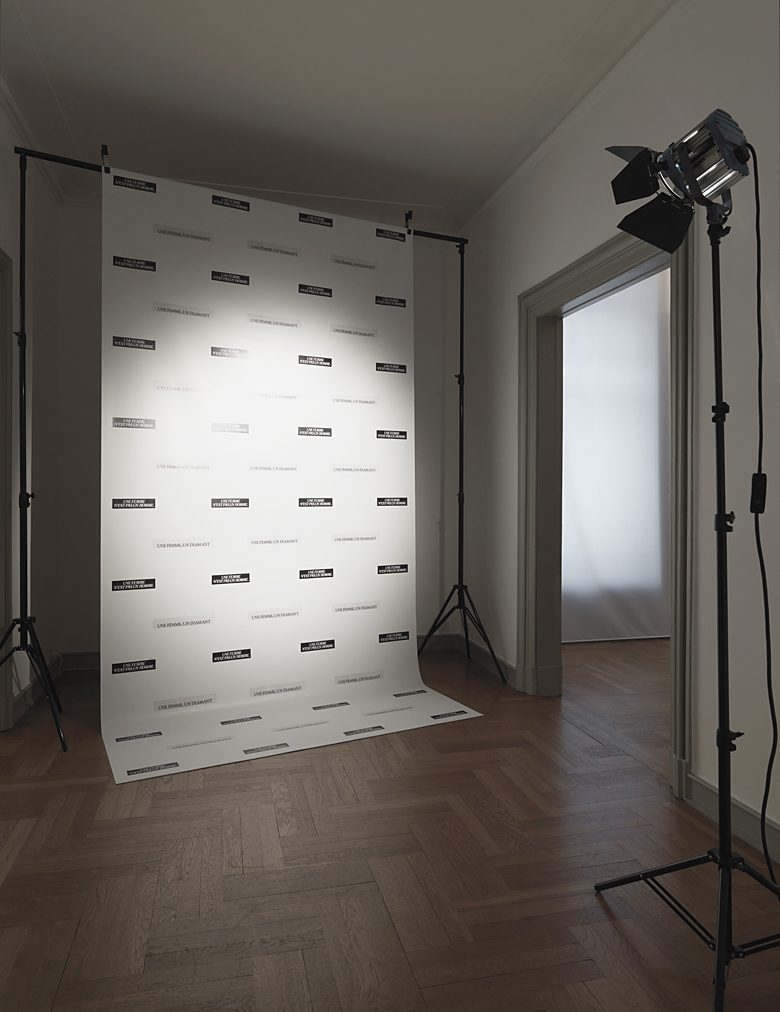 ✧✧✧

✧✧✧

✧✧✧